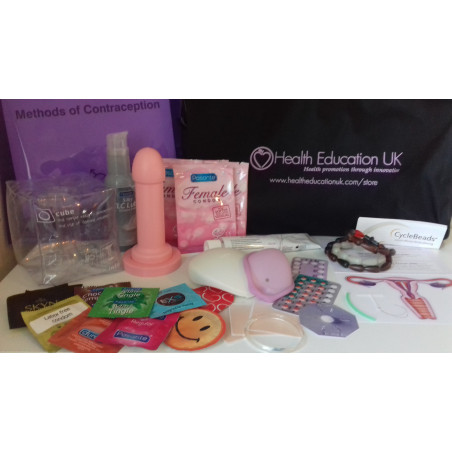  
Comprehensive Contraception Kit
Our  kit includes the full range of examples of contraception including natural family planning tool plus condom demonstrators, packed into a fabric carry bag.  

PLEASE NOTE WE CANNOT PUT LICENSED MEDICINES IN THE KIT, SO PICTURE CARDS ARE USED WHERE APPROPRIATE.

Privacy policy
Delivery policy
Legal policy
Pack content:


1 x Condom Demonstrator 
1 x Contraceptive Injection (Laminated Picture)
3 x Contraceptive Patch Sticker
1 x Contraceptive Pill (Laminated Picture)
1 x Cyclebeads Natural Family Planning Tool
1 x Emergency Pill (Laminated Picture)
1 x EXS Lube 
1 x Female Condom
1 x How to use a Condom - Tear Pad
1 x IUS/IUD Plastic Model and Mini Booklet
3 x Latex Free Condom
3 x Male Condoms
1 x Methods of Contraception - Tear Pad
1 x Model Contraceptive Implant
1 x O Cube Female Condom Demonstrator
1 x Vaginal Ring Placebo
No customer reviews for the moment.
Customers who bought this product also bought: