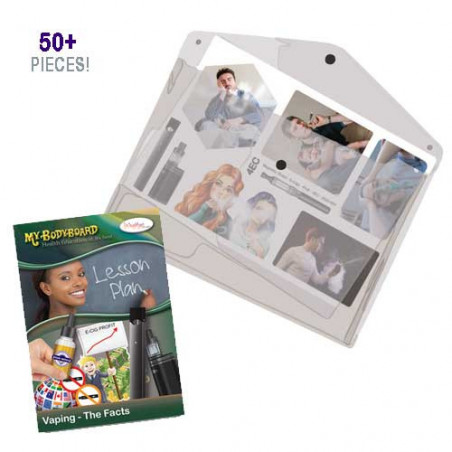  
Magnetic Pack - Vaping the Facts
The Vaping magnetic pack consists of 50+ picture magnets & text descriptions.  Each pack comes in a pop lock folder and with full lesson plan/activity guide. Bodyboard sold separately. 
Privacy policy
Delivery policy
Legal policy
Vaping and use of E-cigarettes is increasing, especially with young people and adults attempting to quit tobacco. Learn more about Vaping through My BodyBoard and vaping magnetic images. Great for use in regard prevention in schools – PSHE Lessons.  BodyBoard sold separately.
The Vaping magnetic pack and double sided My BodyBoard enable you to present a vivid, informative and truthful view on how vaping can be an aid for tobacco smokers to quit, but also how it is far from a safe or healthy habit to start.  
The pack/set aims to provide an understanding on how vaping can be dangerous and yet also a manner to a healthier lifestyle for addicted tobacco smokers. The pack explores over 30 area's related to vaping and it's potential dangers, social and emotional affects.
No customer reviews for the moment.