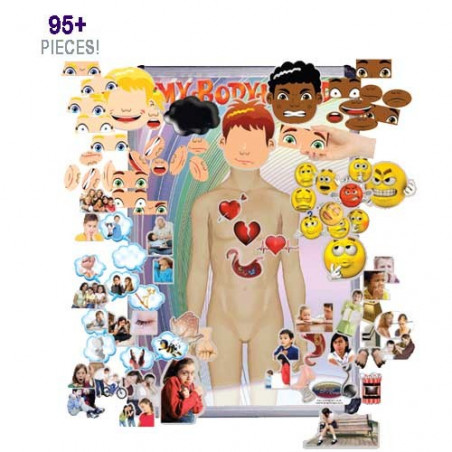  
Magnetic Pack - Emotional Health
My Bodyboard Social & Emotional Health magnetic pack consists of almost 100 picture magnets & text descriptions.   A full lesson plan and pop lock folder is included with each pack.  Pictures speak a thousand words… and with emotions, this is even more of a truism. BodyBoard sold separately.
Privacy policy
Delivery policy
Legal policy
Can be used with MyBodyBoard or any magnetic surface.  (Board sold separately).
Teachers/health professionals can engage with individuals, groups and a class to discuss a range of issues around social and emotional health or specific incidents.  Students choose the appropriate images that correspond to different emotions/feelings, or use the images to show how they feel that day (the board can be permanently fixed as a wall display).  
The Social & Emotional Health magnetic pack helps facilitators to cover the following key topics:

Faces with different expressions;
Emoticons to communicate mood such as: Anger, Sadness, Confusion or Joy;
Scenarios or situations such as: Parental support, Exclusion, Bullying;
Thought Bubbles such as: "In two minds" or "Walking a tightrope";
Physical Feelings such as: Sweaty palms or Having butterflies.
No customer reviews for the moment.