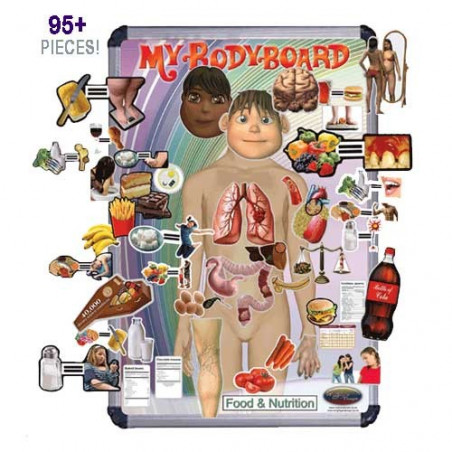  
Magnetic Pack - Food & Nutrition
The 'Food & Nutrition' magnetic pack consists of almost 100 different picture magnets and text descriptions. BodyBoard sold separately.
Privacy policy
Delivery policy
Legal policy
Can be used with MyBodyBoard or any magnetic surface.  (Board sold separately).
Teachers/health professionals can engage with individual students and groups to discuss the effects of food and educate on nutrition and obesity.  Students choose the appropriate images that correspond to different foods, facts or emotions/feelings around food.  Each pack comes in a pop lock folder and with full lesson plan/activity guide.
The Food & Nutrition magnetic pack helps facilitators to cover the following key topics:
The effects of food and nutrition on the organs of the body; Good effects of nutrition; Negative effects from inadequate nutrition or too much of certain foods; Healthy v Junk Foods, Deaths in the UK/US from obesity related conditions; Food intake vs energy output; Nutritional information & guideline - daily amounts of calories; Nutritional information cards; Alcohol and calories; Weight and bullying; Dieting; Bulimia Nervosaa; Anorexia Nervosa; Portion Plate; Eatwell Guide and US My Plate.
No customer reviews for the moment.