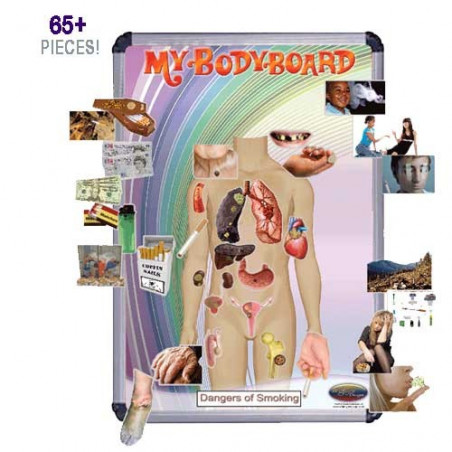  
Magnetic Pack - Dangers of Smoking
The 'Dangers of Smoking' magnetic pack contains a total of 36 different pictures and 30 text descriptions. The pack also includes additional blank magnets allowing the instructor to add any smoking related issues that come up during the session with a white board marker.  BodyBoard sold separately.
Privacy policy
Delivery policy
Legal policy
Can be used with MyBodyBoard or any magnetic surface.  (Board sold separately).
Teachers/health professionals can engage with individuals and groups to discuss issues around tobacco. Users match up the magnetic pictures with the words and place them on the My Bodyboard.  A full lesson plan and pop lock folder is included with each pack.  This is a fun, interactive and pupil led discussion lesson to look at the Dangers of Smoking. 
The Smoking My Bodyboard helps health professionals to cover the following smoking related topics:
Healthy & Diseased Lung; Diseased Heart 'Section'; Cigarettes; Lighter; Matches; Cigarette Packet; Blocked Artery; Thumb and Index Finger Yellowed; Wrinkled Skin; Osteoporosis; Stomach Ulcer; 4,000 Chemical Scene; 20, + 10 notes;  Peer Pressure Scene; Addiction Scene; Deforestation Scene; Litter Scene; Fires From Discarded Smoking Materials; Bad Breath Person; Eyes - Blind Scenario; Horrid Teeth Image; Coin Toss - 1 in 2 Smokers Die from the Habit; Liver Cancer; Reproductive System; Uterine Cancer; Impotent Cigarette; Kidney Cancer; Quitting Scene; Foot with Gangronous Toes; 90,000 Deaths a Year; Smoking and Damage to Foetus-Newborns; Secondhand Smoke.
No customer reviews for the moment.