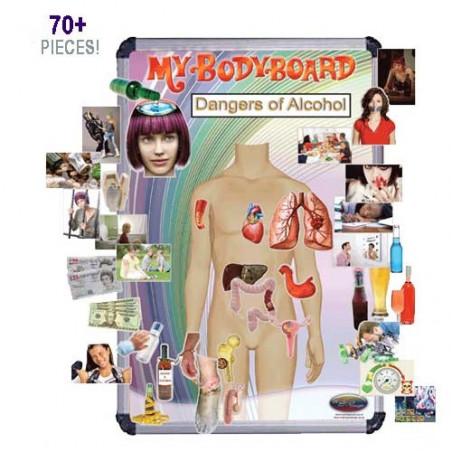  
Magnetic Pack - Dangers of Alcohol
The 'Dangers of Alcohol' My Bodyboard magnetic pack consists of 36 picture magnets and 38 text descriptions.  The pack also includes additional blank magnets allowing the instructor to add any alcohol related issues that come up during the session with a white board marker. BodyBoard sold separately.
Privacy policy
Delivery policy
Legal policy
Can be used with MyBodyBoard or any magnetic surface.  (Board sold separately).

Teachers/health professionals can engage with individuals and groups to discuss issues around responsible drinking and the dangers of alcohol abuse. Users match up the magnetic pictures with the words/descriptions and then place them on the My Bodyboard. A full lesson plan and pop lock folder is included with each pack.  This is a fun, interactive and pupil led discussion way to look at the Dangers of Alcohol. 
The Alcohol My Bodyboard helps facilitators to cover the following alcohol related topics:
Lung Constriction; Diseased Heart; Irregular Heart Beat; Alcopop; Wine; Beer; Bleeding Throat;  Liver Disease; Osteoporosis; Stomach Ulcers;  Inflamed Stomach Lining; 20 + 10 notes - Cost; Peer Pressure Scene; Brain Damage/Stroke; Accidents and Alcohol; Blurred Vision; Slurred Speech; Muscle Weakness; Violence; Breaking the Law; Depression; Reproductive System in Women; Impotence; Calories in Alcoholic Drinks;  Drink Driving; Foetal Alcohol Syndrome; Binge Drinking; STD's; Pancreatic Cancer; Intestinal Cancer; Helping those ill from Alcohol; Showing People 'Responsibly Enjoying Alcohol'. 
No customer reviews for the moment.